(Jared, Mark, Jack, Mike, Lara)

The HeartSleeves are:
Jared Lucas Nathanson - Vocals
Mark Yanomitz - Bass
Jack Cash - Drums
Mike Crutcher - Guitar
Lara Simpson - Vocals

After a some gigs and an album (Dirt & Water), we welcomed Ben Margolis (sax – The Peoples Donut)
, Alex Blinn (Drums), Rob Gilmore (Bass) and JohnMcgregor (Guitar). 

We completed our second album (
Peripheral People
) with the help and collaboration of Alex Blinn (Drums), Rob Gilmore (Bass), Mark Podgurski (Drums), Helen Aki (Guitar, Backing Vocals), HeartSleeve veterans Wayne Flower (Bass) and Joshua Lee Loomis (Guitar) and Honorary Sleever For Life, HeartSleeves engineer Douglas Batchelder (Guitar, Wurlitzer Piano, Hammond organ) who also recorded, mixed and co-produced the album.
After over 4 years as the musical director and co-leader of The HeartSleeves, during which he was a crucial and essential part of keeping the band alive and co-creating and co-producing the album 
Peripheral People
Ben Margolis stepped down as the band's musical director and sax player.  The HeartSleeves owe Ben more than we can ever repay him. He will always be a HeartSleeve and he will always be family.
Current members include Jared (Vocals), Mark Yanowitz (Bass), Jack Cash (Drums), Mike Crutcher (Guitar), Lara Simpson (Vocals).

If Thomas Hart Benton and Lenny Bruce had a band with Percy Sledge and Orson Welles…… We would open for them… no cost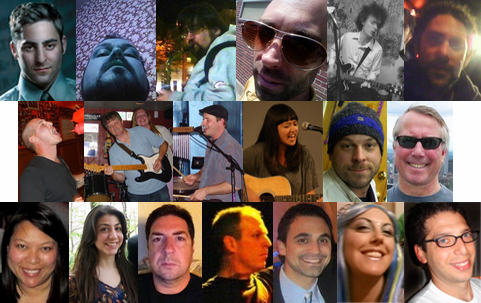 (Ben, Wayne, Joel, Rob, Josh, REL, John, Gary & Brenda, Helen, Mark, Connor, Alan, Liza, Christina, David, Jim, Brandon, Heather, Josh)
Sleever Alumni are
: 
Ben Margolis - Burning Sax
Wayne Flower
: Bass Agent
Joel Greenlee: Saxamphone
Rob Gilmore: Bass Control
 Alex Blin: Drummer Boy
Joshua Lee Loomis
: Crazed Guitar/Backup Vocalities
Ariel "R E L" Rejman
: Explorative Percusion
John Mcgregor: Guitar, Vocals, Captain America
Gary McKnight
: Lead Guit & Backups
Brenda Burke
: Drumming Diva
Helen Aki
 : Punk Guitar/ Sweet Vocals
Mark Podgurski - Mr Boston Drummer man
Connor Bergman- Sweet Guit
Alan Trebat
- Big Beats
Liza Talusan - Queen of Harmonies
Christina Eliades - Our Favorite Substitute Vocalist
David Lewis - Blues Brother on Guitar
Jim DiNardo - Percussin Man
Brandon Bergman - Dr. Beat
Heather McCormack - Vocals
Joshua Troderman - Keys